Welcome
Check out my Facebook Page!
Hardware Repairs
Software Repairs
Create Documents
Create Websites
Kay's Computing, LLC enjoys making your computer run well for you. A computer is meant to be enjoyed and do fun things; and the computer lady likes making that happen for you. Give the computer lady a call today for friendly advice and/or to schedule a repair or cleanup.
Heading to Aberdeen shopping? Make an appointment with the computer lady to drop off your computer on the way to Aberdeen for a cleanup and then pick it back up on the way home! Time it takes varies on how much cleaning is needed.
Kay Daly
Caring for Computers Since...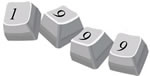 Minimum Charge is half an hour.
Any computer not picked up in 6 months, becomes the property of Kay's Computing.
Kay's Computing LLConly wishes to make your computer run well.
Problems after being fixed need to be brought back in a timely manner.